Email Marketing has one of the highest Return on Investment (ROI) at 4300%
Total training hours: 7.0 Hours | 10.00 AM to 6.00 PM

This workshop is SkillsFuture Approved and Claimable.
Receive a Certificate of Completion when you complete the workshop.

Behind the scene video of what goes on during our workshops:


Unleash the power of Email Marketing with MailChimp by learning:
• Key principles in Email Marketing
• What makes Email Marketing work
• Understand what will get people to subscribe to your list
• How you can automate this process
• Understand how you can unleash the power of Email Marketing

Workshop Overview:
1. Introduction to email marketing
2. Getting started with MailChimp
3. Creating your first email campaign with MailChimp
4. Learn from Case Studies: Good VS Bad email campaigns
5. Useful features in MailChimp
6. Design graphics for your email campaign
7. 5 ways to optimize your email campaigns for better results
8. 7 simple ways to grow your email list
9. Final touches and tweaks / Q&A time

What you'll need to bring to class:
• Laptop and charger
• Mouse and mouse pad

Who is this workshop for?
• Marketing Executives
• Employees in charge of Email Marketing / Email Blast
• Digital Marketing Executives
• Startups and Business Owners
• People who want to build their own email list

- - - - - - - - - - - - - - - - - - - - - - - - - - - - - - - - - - -
What you need to know (for Singaporeans above 25 years old):
This workshop is SkillsFuture Approved & Claimable.
No cash required. Email us at skillsfuture@skycrm.asia for payment instructions to pay us directly with your SkillsFuture Credits.
Course code on SkillsFuture Directory: CRS-N-0035524

This is a Certificate Workshop. Receive a Certificate of Completion upon completion of the workshop from Sky Digital Agency.

PIC Grant: 40% of course fee
For company sponsored individuals, your company can claim 40% of course fee (for training conducted by external vendor) from PIC if your company is eligible.
More about the PIC Grant: https://goo.gl/qlldQz

P.S. For company sponsored employees, companies get to claim $2/hour from SkillsConnect's Absentee Pay Roll.

About the Trainer
Charmaine is the Creative Director of Sky Digital Agency and Founder of The Good Designers.

She has been conducting training since 2015, equipping her clients in Facebook Marketing, Search Engine Optimization (SEO), Email Marketing and more... Till date, she has conducted more than 1,000 hours in training.

Charmaine makes learning interactive, practical and fun. She enjoys breaking down complex topics to help participants gain better understanding on Facebook Marketing, SEO & SEM, Infographics Design and more!

She strongly believes that the training industry needs more courses and training with smaller group of participants that allows them a more conducive environment to learn, ask questions, and have more 1-to-1 time with the trainer.

Other SkillsFuture Approved Courses under Sky Digital Agency
• Email Marketing with MailChimp (for Beginners)
• Grow your business with Facebook Marketing
• Facebook Ad Manager Advanced Advertising Tool Course
• Grow your business with Instagram Marketing (for Beginners)
• Content Marketing for Social Media and Websites
• 2-day MailChimp Email Marketing for E-commerce Owners
• 2-day Facebook Marketing for E-commerce Owners

Creative Courses by The Good Designers
• 1-day Infographics Marketing for Facebook, Instagram, Brochure and Website
• 1-day iMovie Video Content Marketing for Facebook and Instagram
• 2-day iMovie Video Cotnent Marketing for Corporate Videos
• 1-day Coding HTML and CSS with Sublime Text
• 2-day Get Creative with Adobe Photoshop

Connect with us on:
Facebook | Instagram | YouTube | Website
Our workshop reviews on Facebook:
Here are some generous workshop reviews our participants have left us on Facebook on how our workshops have helped them be a better marketer for their work, business, and startups:


More reviews of our workshop are also available on our Facebook Review Page
More reviews of our workshop can be seen on our Facebook Reviews

To receive notifications of our latest course schedules, follow us on Peatix


FAQs

1. Who can i contact should i have questions?
You may e-mail us at workshops@skycrm.asia

2. Is there a minimum class size to proceed?
Yes. We require a minimum class size of 3 people to proceed with the class.
In the event that there is insufficient participants, we reserve the right to reschedule the class. Under such circumstances, we will inform you no later than 3 working days before the event.

3. Where is the venue of the workshop?
6 Raffles Quay, #15-00, Singapore 048580

Nearest MRT: Raffles MRT, take exit "i" to Ascott at Raffles Place, 6 Raffles Quay is right after Ascott at Raffles Place.

P.S. Our venue is rain proof! 6 Raffles Quay (Building Name) is sheltered all the way from Raffles MRT.

4. I'm driving, where can I park?
There is parking space at the building 6 Raffles Quay itself at $2.50 per 30 min block.
For weekend classes, we recommend our participants to park at SGX Centre, at $3 per entry.

Charmaine occasionally conducts training about "Ways to Effectively Retain Learning Through Better Visual Presentations" with Life Long Learning Centre, under Institute of Adult Learning (IAL)




Charmaine also conducts customized corporate training for schools, and companies as well.

Here's Charmaine in action training 15 staff and lecturers from Singapore University of Technology and Design (SUTD). If your company or organization requires in-house corporate training for your staff or employees, do reach out to us at trainings@skycrm.asia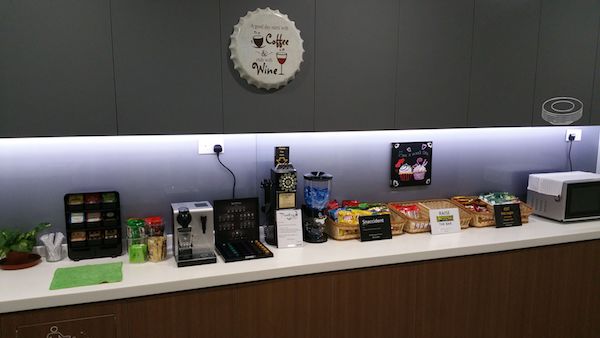 Don't you just love the pantry. Makes learning more fun when you have different hot drinks to keep you awake! We mean... to help you focus!
Small Class Training of Max. 6 participants